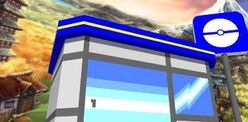 Hello! Welcome to the PokeMart! Here you can Register your Pokemon, heal them, and yes! Even feed them!
Here at the PokeMart, you can buy things, and heal your Pokemon! Things that are available
- PokeFood
- Water
- Pokeballs (Regular, Great, and Ultra)
-Potions (Regular and Super)


-Mail Items
I hope you got what you need, bye!