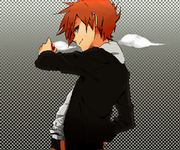 He is Goten66's RP character. He is a 13 year old Pokemon trainer. He is the grandson of Gary Oak and is from Kanto.
Personality
Edit
He doesn't talk very much unless he hears something he dissagrees with(which is a lot of things...). He doesn't like people who annoy him and a lot of people do. He cares for his pokemon even though it appears that he doesn't.
Appearence
Edit
He looks much like his grandfather Gary Oak. He has spikey brown hair and green eyes. He wears many different outfits.
His starter is Ferno the Torchic even though he's from Kanto. He later caught a Starly which he named Talon. The second Pokemon he captures is King the Nidoran. He was later given Crunch the Totodile. He later found a fossil that became a Shiny Cranidos .
Zan - Tie
Kai - Win
LT - Tie
Tide - Win
Team Atom thugs - Win
Volkson - Win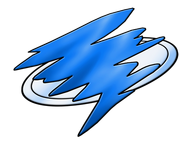 Backpack
Pokeballs
Pokemon medicine
Pokedex
Pokegear
Berries
Pokemon Egg
Moon Stone